Alabama Chapter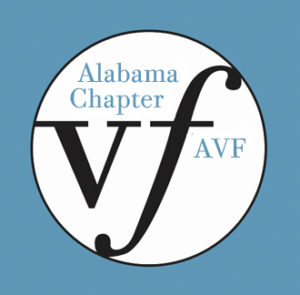 Interm Officers | Events | Goals
President: Elizabeth Ann Benson, DMA
Vice-President: Valerie Accetta, MFA
Secretary: Luvada A. Harrison, DM
Treasurer: Janice Sullivan-Stoll, MM, MS
Social Media Director: Brandon Marcus, MLA
Membership Director: Mollie A. Adams, MM
Past-President: Edie Hapner, PhD
Contact:
alabamavoicefoundation@gmail.com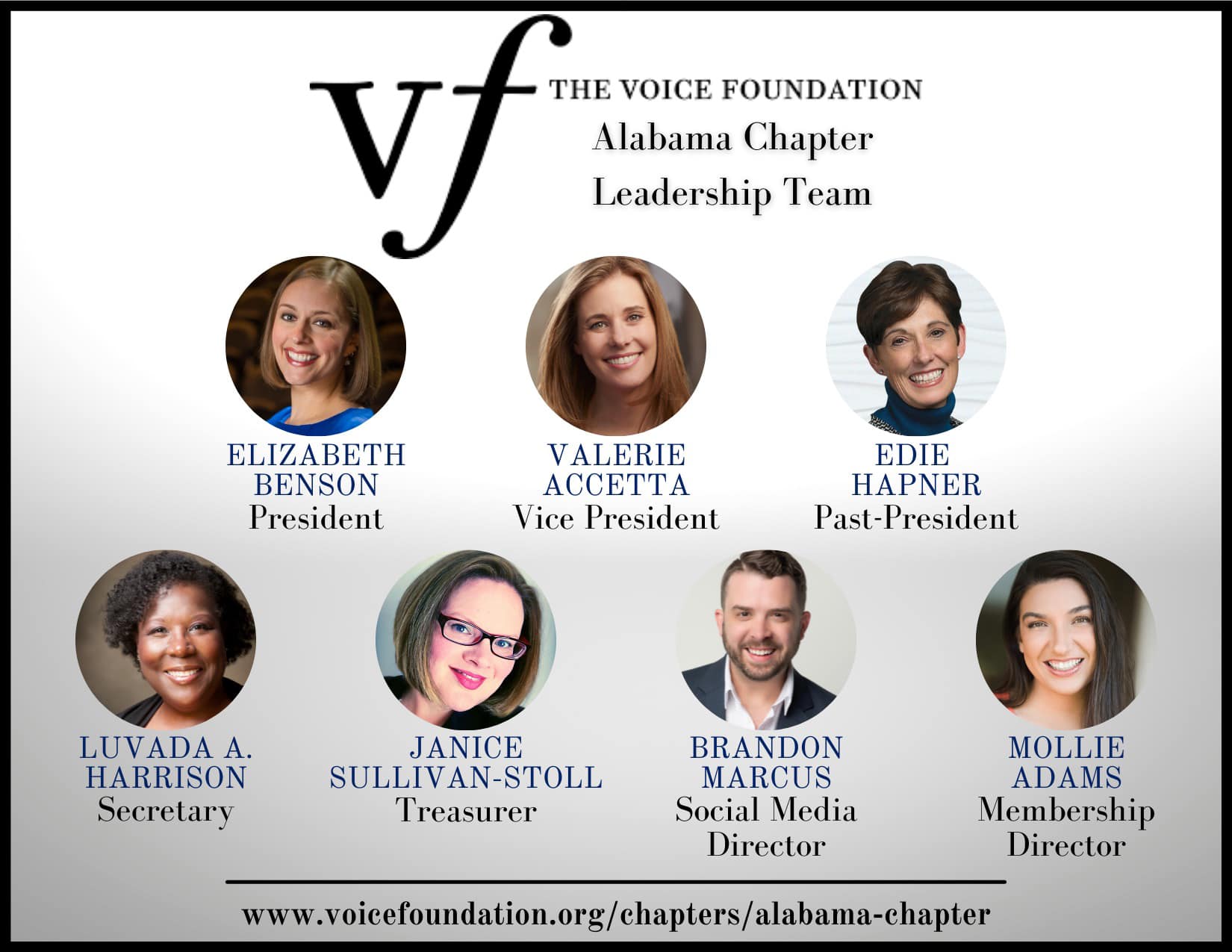 Events
Upcoming Meeting
The next meeting of the Alabama Voice Foundation Chapter will be:
World Voice Day
The Alabama Chapter of The Voice Foundation will be hosting a World Voice Day Cabaret on April 24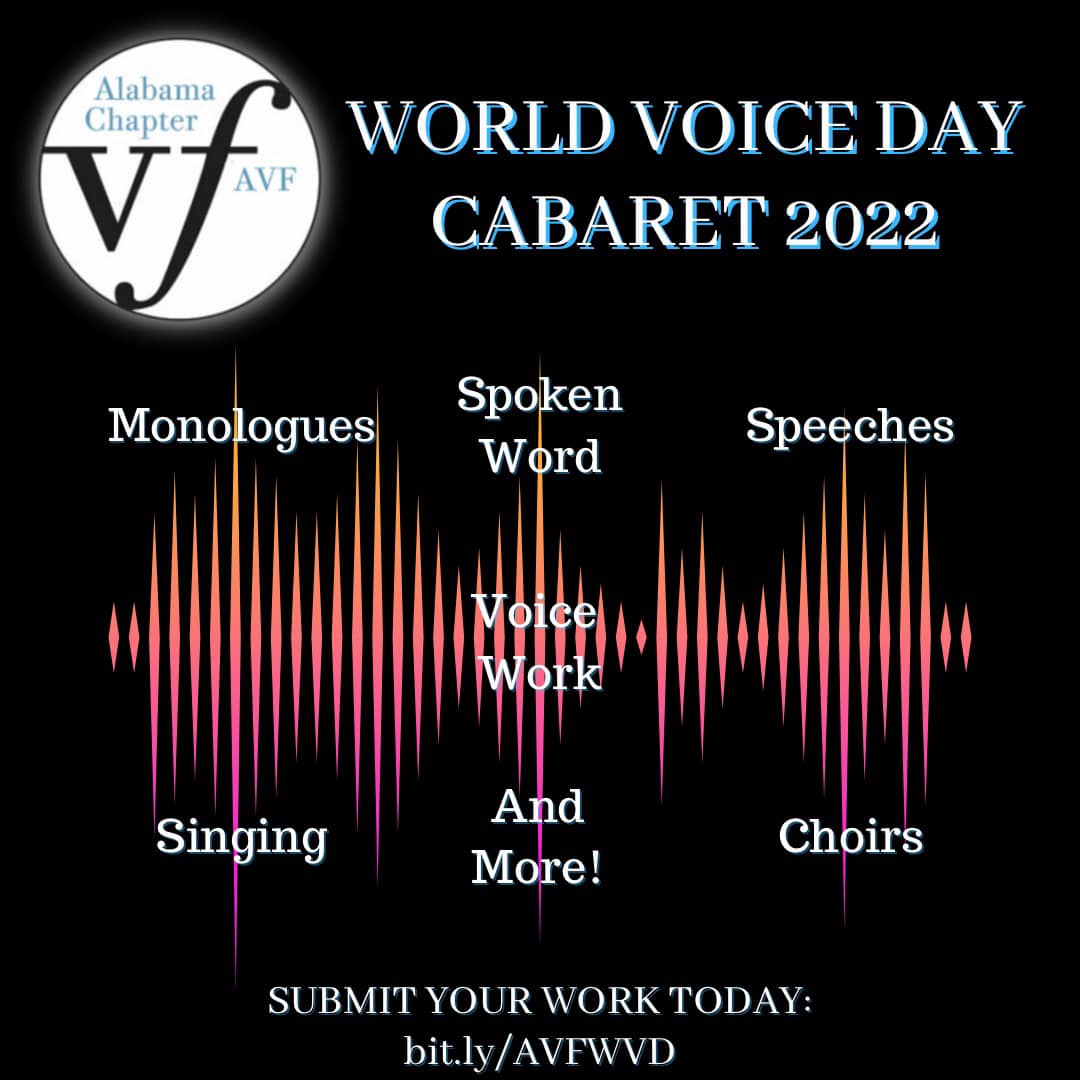 Sunday, October 3, 4:00pm
Zoom Registration Required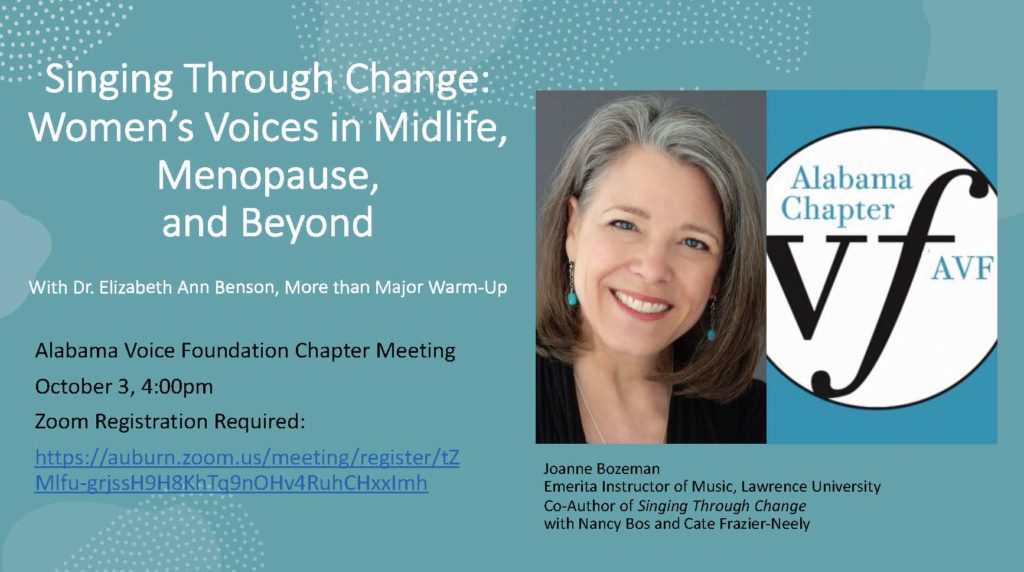 This meeting will begin with a "More than Major" singing warm-up by Dr. Elizabeth Ann Benson, Associate Professor of Music Theatre at Auburn University.
We will then welcome our featured guest speaker Joanne Bozeman, Emerita Instructor of Music at Lawrence University and Co-Author of Singing Through Change: Women's Voices in Midlife, Menopause, and Beyond.
Singing Through Change by Nancy Bos, Joanne Bozeman, and Cate Frazier-Neely was published in 2020 and is the first book about singing during perimenopause, menopause, and through aging. Find out more about the book here, and by coming to our meeting!
To RSVP, please email alabamavoicefoundation@gmail.com.
Our Chapter
The Alabama chapter was formed in 2020 with a mission to build a broader community of voice practitioners, voice educators, and professional and occupational voice users in Alabama and to create opportunities for networking, collaborating, and education. The 14 founding members represent speech and language pathologists, singing and voice trainers, and laryngologists brought together by our common goal to strengthen our local community of voice professionals through development activities and networking, and to recruit future membership through student-focused outreach.
Meetings
We meet quarterly. To keep informed about upcoming meetings, please email alabamavoicefoundation@gmail.com. Chapter meetings are open to the public, so please spread the word to all who might be interested!
Join
We strongly encourage you to join The Voice Foundation. Part of your dues will come back to our local chapter if you select the "Alabama Chapter" on your registration form. This allows us to bring you even more enriching professional development opportunities through our chapter meetings.