Alabama Chapter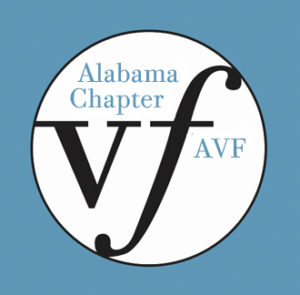 Interm Officers | Events | Goals
President:
Edie Hapner, PhD
Vice President:
Mary Sandage, PhD
Secretary:
Elizabeth Ann Benson, DMA
Treasurer:
Janice Sullivan-Stoll, MM, MS
Contact:
alabamavoicefoundation@gmail.com
Events
Recent Meeting
Our first meeting is scheduled for January 24, 2021 on Zoom. Guest speaker Jennifer Muckala, MA, CCC SLP, of the Vanderbilt Voice Center Nashville, TN, will discuss voice rehabilitation following COVID-19. To RSVP, please email alabamavoicefoundation@gmail.com.
Our Chapter
The Alabama chapter was formed in 2020 with a mission to build a broader community of voice practitioners, voice educators, and professional and occupational voice users in Alabama and to create opportunities for networking, collaborating, and education. The 14 founding members represent speech and language pathologists, singing and voice trainers, and laryngologists brought together by our common goal to strengthen our local community of voice professionals through development activities and networking, and to recruit future membership through student-focused outreach.
Meetings
We meet quarterly. To keep informed about upcoming meetings, please email alabamavoicefoundation@gmail.com. Chapter meetings are open to the public, so please spread the word to all who might be interested!
Join
We strongly encourage you to join The Voice Foundation. Part of your dues will come back to our local chapter if you select the "Alabama Chapter" on your registration form. This allows us to bring you even more enriching professional development opportunities through our chapter meetings.