The Voice
The Voice Foundation Newsletter is a quarterly publication appealing to a broad audience and for anyone interested in learning more about vocal health. It is an invaluable resource for those who wish to stay informed about the latest in voice care without having to decipher the technical jargon of scientific publications. The various information included can be symposium and gala pictures, World Voice Day reports, and wonderful voice articles by respected professionals.
Editors: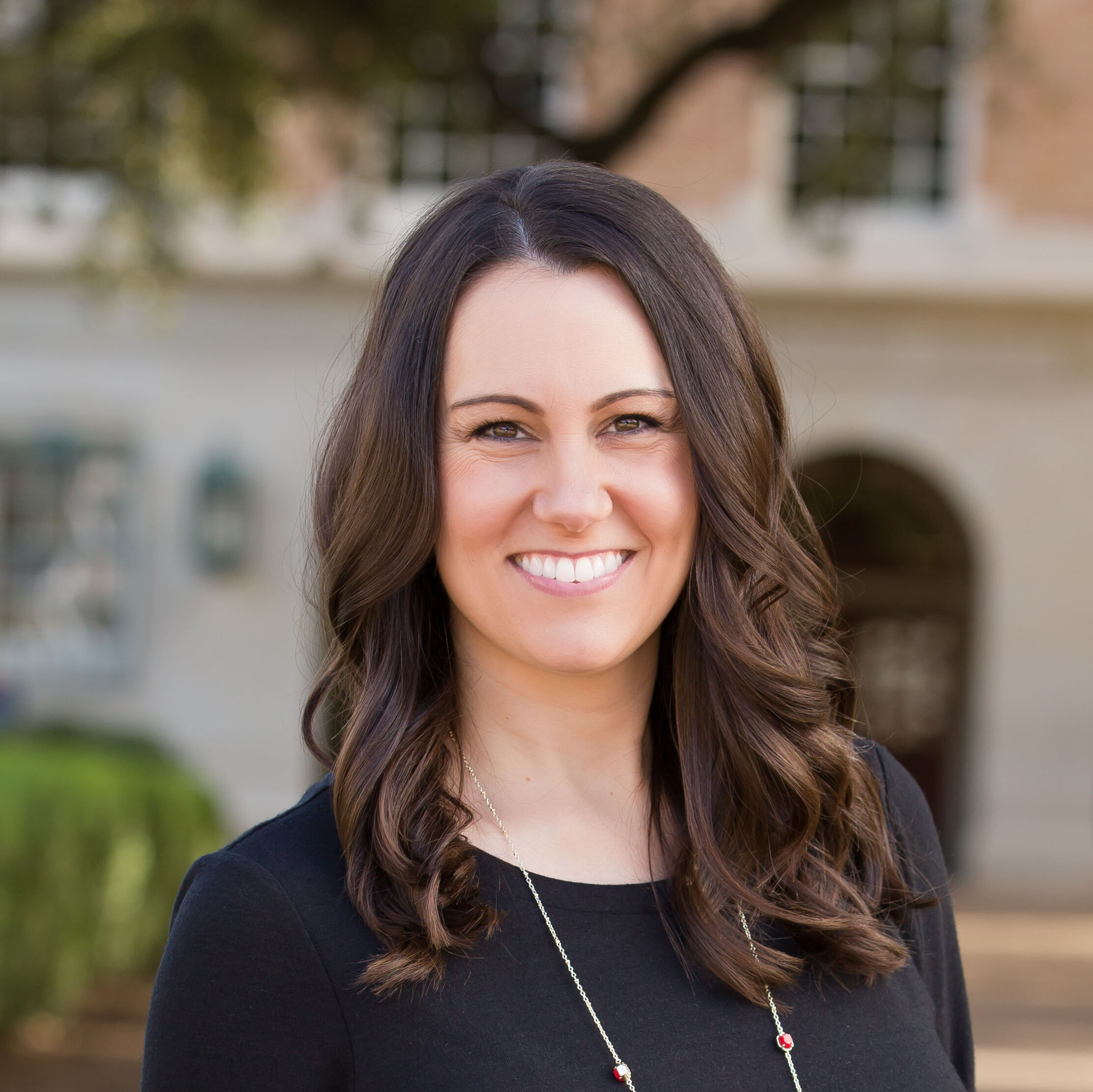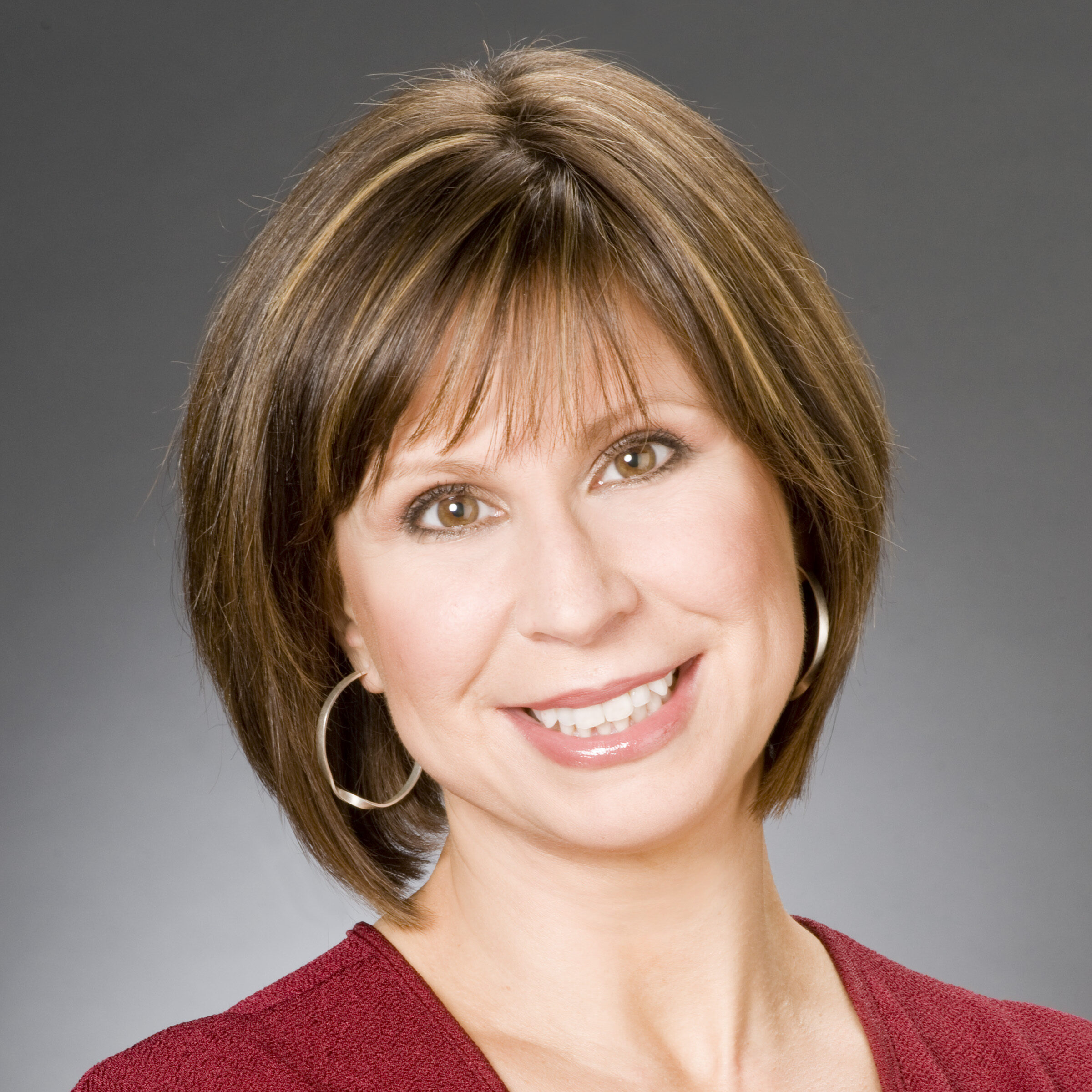 2023
September Newsletter All Choked Up!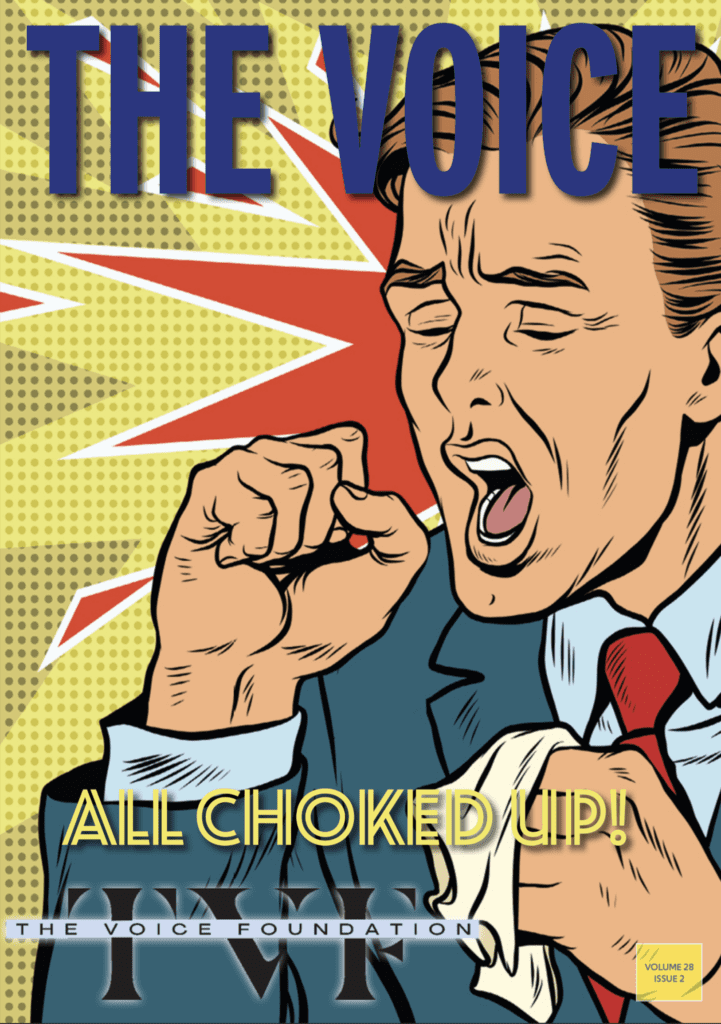 May Newsletter All Choked Up!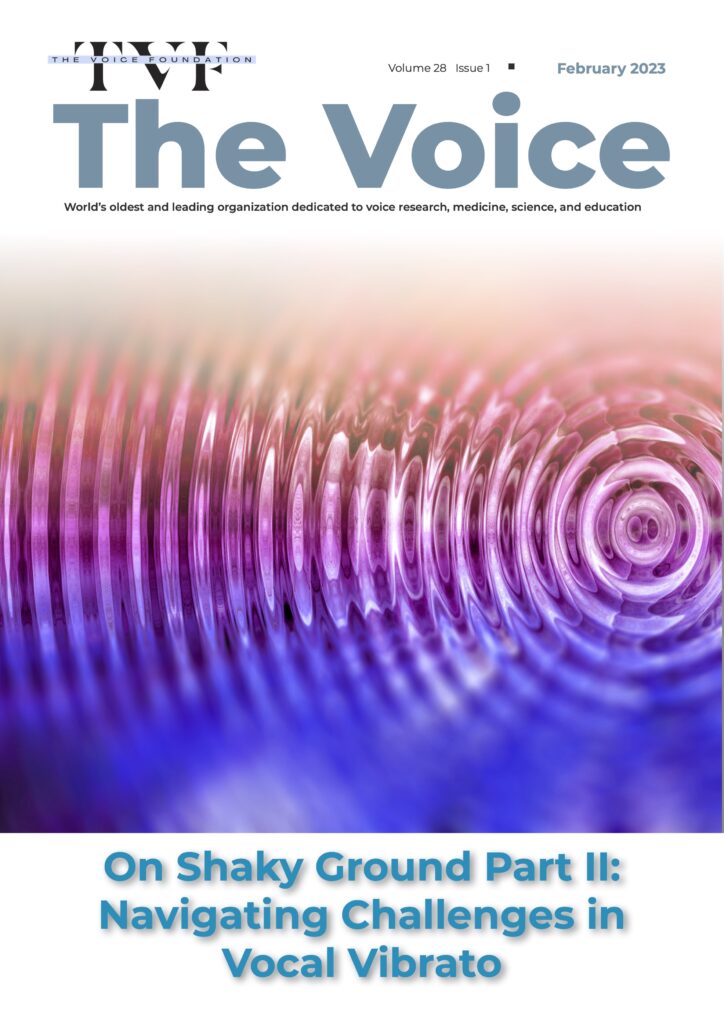 February Newsletter On Shaky Ground Part II
2022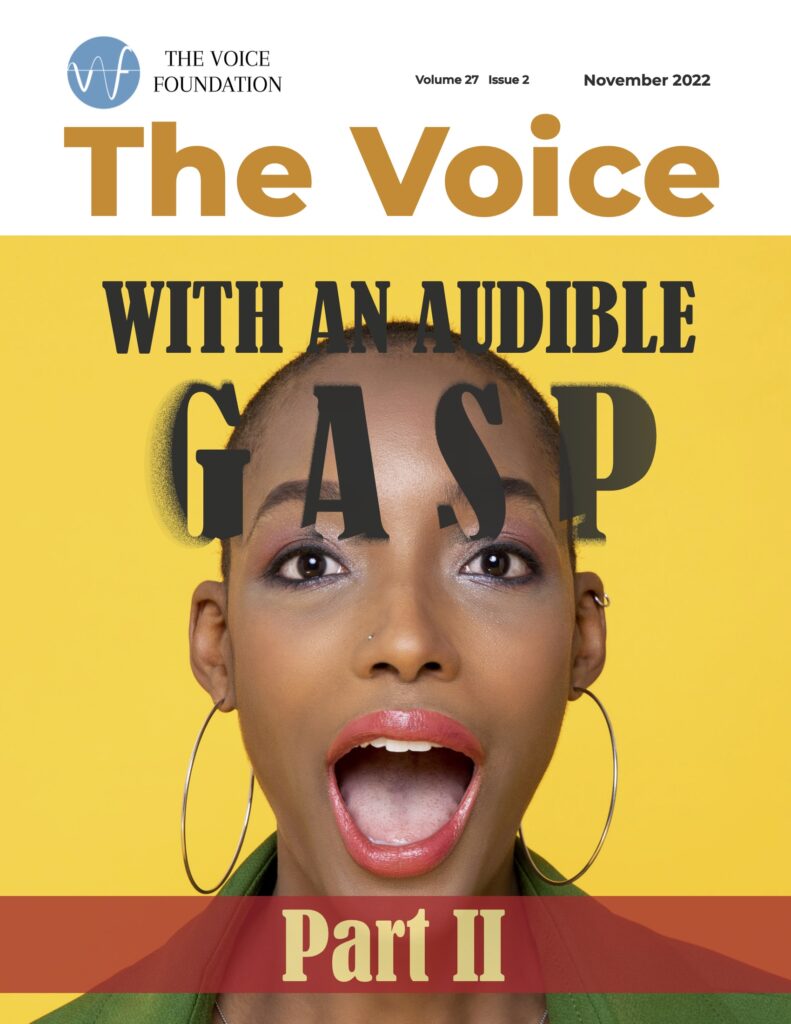 November Newsletter With An Audible Gasp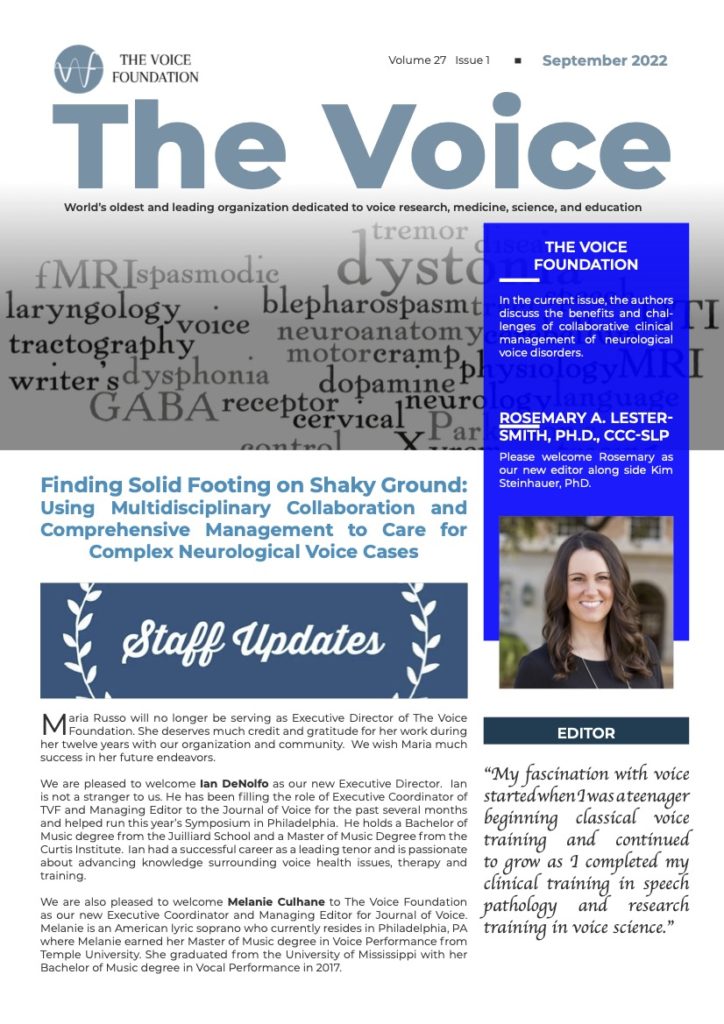 September Newsletter Finding Solid Footing on Shaky Ground
2021
Fall 2021 With An Audible GASP
(Fall – Steinhauer)
Summer 2021 VOICE IN THE TIME OF COVID-19
(Summer – Sandage)
2020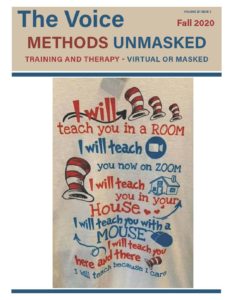 Fall Newsletter 2020 METHODS UNMASKED
(Fall – Steinhauer)
2020 Summer Newsletter Singing When Sick: Clinical Guidence
(Summer – Sandage)
2020 Spring Newsletter Voice and Gesture
(Spring – Steinhauer)
2019
2019 Fall Newsletter Autoimmune Diseases and Voice: A Clinical Perspective
(Late, Late, Late Fall – Sandage)
Vol24_Issue1_Newsletter Changing Points of View
(Spring/Summer – Sandage)


2018
2018_Vol23_Issue_4_Newsletter More Change – Great Minds Think Alike
(Fall – Steinhauer) HERE
Transgender – Changes in Voice and Speech with supplemental glossary.
(Summer to Fall – Sandage) – HERE
Transgender Terms – HERE
Breath in Voice Education and Rehabilitation
(Spring – Steinhauer) – HERE
Injured Singers in Vocal Crisis
(Winter – Sandage) – HERE
2017
Is It Resonance or Voice Quality?
(Fall – Steinhauer) – HERE
In Support of Voice Care
(Summer – Sandage)
2017 Summer Newsletter: good pics – HERE
Clinical Tools for Your Voice Box
(Spring – Steinhauer) – HERE

Vocal Pedagogy with Science and Style
(Winter – Sandage) – HERE
2016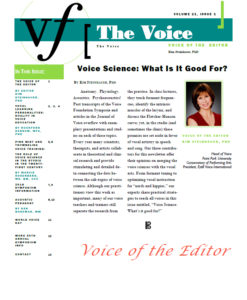 Vocalises for Vocal-Ease!
2016_fallvol21_issue_3_newsletter
Assessing, Treating and Training
VOICES OF CHILDREN
(high res) 2016_spr-summervol21_issue_2_newsletter
(low res) 2016_spr-summervol21_issue_2_newsletter1

Voice Science: What Is It Good For?
2016_SpringVol21_Issue_1_Newsletter
2015
Clinical Pearls: Specific Aspects of Voice Care in Special Populations
Winter 2015 Newsletter
Vocal Hemorrhage: Dispelling Myths
Fall 2015 Newsletter
Exercise Science: Considerations for the Performing Voice
Summer 2015 Newsletter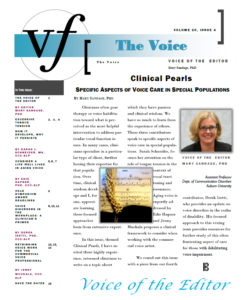 The Effect of Hormonal Changes on Voice Quality
Feb-March2015 Newsletter

2014
Spasmodic Dysphonia: Exploring Aspects of the Disorder with Research, Clinical Care and Patient Stories
2014_FallNewsletterVol19_Issue2
NOT LITTLE ADULTS
2014_Vol19_Issue_1_web(fast loading)
2014_Vol19_Issue_1 (higher quality)
2013
Hydration and Voice – Got Water?
2013_FallVol18_Issue_2_Newsletter-web (fast loading)
2013_FallVol18_Issue_2_Newsletter (higher quality)
Why Do We Need to Look at the Vocal Folds
2013Spring_Vol_18_Issue_web
2012
Voice Related Quality of Life
2012 February Vol 17 Issue 1 Newsletter
Interview with Ben Heppner
2012SpringVol17Issue2Newsletter
Integrated Research & Tech. in Training & Rehab of Vocal Athletes
2012Fall_Vol_17Issue_3_News2
2011
Gala and Chapter News
2011 Sept Vol 16 Issue 1 Newsletter
What I Want to Learn in Voice Class this Year
newsletter_vol16_issue2
2010
Spring 2010 Vol 15 Issue 1 Newsletter
Backstage at The Voice Foundation I
Summer 2010 Vol 15 Issue 2 Newsletter
Backstage at The Voice Foundation II
2010 Fall Vol 15 Issue 3 Newsletter
Complementary and Alternative Medicine
2010-11 Vol 15 Issue 4 Newsletter
Save
Save
Save
Save
Save
Save
Save
Save