Planes, Trains, Bus, Car
From the Airport
Public Transportation  The single best way to get from Philadelphia International Airport ( PHL ) to Center City is via the SEPTA (Southeastern Pennsylvania Transit Authority) Airport Regional Rail Line (formerly R1).  It stops at every terminal at the airport except F (just walk over to E), runs every half-hour from 6 AM to midnight, and is Airport Regional Rail fare: Purchased on-board (most common): $8.00; purchased in advance, $6.50, or One Day Independence Pass ($12.00). The fare is paid to the conductors on board the train. You cannot purchase tickets prior to boarding the train at the airport. (If you are travelling to the airport from downtown, buying tickets at the station reduces the fare as you have purchased in advance.)
After one stop right outside the Airport, it stops at the University of Pennsylvania campus and 30th Street Station (where the Amtrak trains for New York and Washington stop). It then stops at Suburban Station at 16th Street and JFK Boulvard, just two blocks from City Hall and very near several hotels including the Westin (17th & Market Sts.),  Crowne Plaza hotel (18th & Market Sts.), the Wyndham Hotel (17th & Race Sts.), the Four Seasons (1 Logan Square), the Sofitel (17th & Sansom Sts.),The Rittenhouse (210 W. Rittenhouse Square), and many others. This is the commercial and shopping section of the city with many fine restaurants, interesting shops, and sights nearby.
By Taxi
Fares from the airport to Center City are fixed at a flat rate of $28.50 for the first person, plus $1.00 for each additional person.  If you are not going to Center City, ask the cab driver to estimate the fare before you leave, or check the Philadelphia Taxi Fare Finder for an estimate.
By Shuttle
Some popular shuttle services (in alphabetical order), are: Daves Best Limousine, Lady Liberty Shuttle, Mozio Shuttles & Limos, SuperShuttle. All offer door-to-door shared shuttles to and from PHL airport.Shuttles can have anywhere from a few passengers to a van full, and may make multiple stops, depending on the passengers' pickup points and destinations. When making your plans, especially for getting to the airport, be sure to consider the possibility that a shuttle may take longer than other modes. The trade-offs are price/convenience/time
By Car
Renting a car in Philadelphia is not necessary if you are planning to stay in Center City.  If you choose to rent one, however, from the airport exit, take either 76 West to 676 East or 95 North to 676 West.
Amtrack Service to and from Philadelphia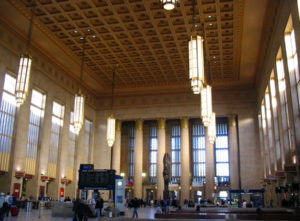 Amtrak has been transporting passengers along America's railways for 40 years. When it comes to traveling along the Northeast corridor, there's no easier way then hopping aboard an Amtrak train and riding the rails.
If you need to get to Philadelphia quickly, Acela Express trains running between Boston, New York, Philadelphia, and Washington, DC, are the way to go. Amtrak offers quick, comfortable travel between the cities seven days a week.
Hint for taxis at 30th Street Station: If the line for a cab is long, and there are no cabs in the queue, walk over to Market Street and hail a cab. Market Street will be to your right as you come out of the station to stand in the cab line.
Amtrak service in Philadelphia originates at the beautiful 30th Street Station. Click here for 30th Street Station details.
Information and reservations available at (800) 872-7245 and www.amtrak.com.