Hamdan International Presentation Award 2019
Congratulations!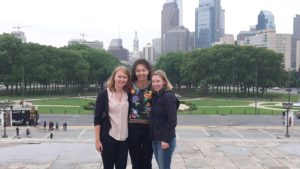 Dr. Rahul Shrivastav, chair of the International Presentation Committee has informed us that the Hamdan Committee has reviewed the submissions for the Hamdan award and are pleased to recommend the following as this year's winner,  Iris Meerschman, PhD for
Innovative Service Delivery Models for Voice Therapy: The Patient's Opinion
Iris Meerschman, PhD, Evelien D'haeseleer, PhD, Sofie Claeys, PhD, Kristiane Van Lierde, PhD.
Ghent University, Belgium
Once again, our sincere appreciation to Dr. Hamdan for this gift. I know the significant impact this award will have on the award recipient.
This paper will be presented at the 48th Annual Symposium: Care of the Professional Voice on Saturday, June 1, 1:20pm – SLP Session 1A.
Congratulations Dr. Meerschman and the Ghent University Research Group! Our thanks to Dr. Hamdan for making this possible and for the work of the committee, Dr. Shrivastav, Dr. Jon Bock, and Dr. Aaron Johnson. I am grateful to the committee members for the quick work.