Van Lawrence Award: The Matts Have It
The Voice Foundation and NATS Foundation present the Van L. Lawrence Fellowship
Congratulations to Matthew Schloneger, PhD, and Matthew Edwards, DMA
This year, against all odds, the judge's numerical rating resulted in a tie at the top of eleven high-quality submissions.
Matthew Schloneger is a voice professor and Chair of the Department of Fine Arts at Hesston College, KS.  Dr. Schloneger is on a roll at the TVF Annual Symposium; he was awarded the first-ever Best Student Presentation Award at the 2015 Voice Foundation Symposium. He is a two-time runner up for the Van Lawrence Fellowship (2013 & 2016) and also received one of two New Investigator Forum awards from the Voice Foundation in 2013.
Dr. Schloneger wrote, "As a singing voice pedagogue, I want to continue exploring ways in which voice dosimetry can be of direct assistance to singing teachers."  His submission concluded "I propose a study that further develops Titze's and Nix's ideas of quantifying vocal repertoire tessituras through dosimetry."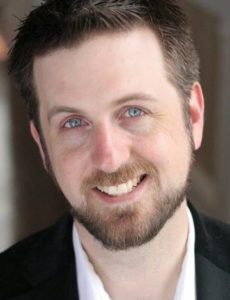 Matthew Edwards is an associate professor, coordinator of musical theatre voice, and Artistic Director of the CCM Vocal Pedagogy Institute at Shenandoah University. Dr. Edwards is a regular presenter at TVF Annual Symposium and  has co-authored studies for TVF  Journal of Voice and NATS' Journal of Singing.
During the fellowship year he intends to conduct a human subjects study with Aaron Johnson, PhD at the New York University Voice Center based on prior studies by Echternach et al. (2008, 2010) and Moerman et al. (2015). The results of this study will provide further insight into the differences between classical and CCM genres that will benefit studio teachers, singing voice specialists, and their students.
Both of the 2017 Fellowship Awardees have presentations at the 46th Annual Symposium: Care of the Professional Voice:
Friday, June 2nd, 2017 Workshop Session at the Academy of Vocal Arts
Crossing Over: From Classical to Commercial and Musical Theatre Styles
Matthew Edwards
Sunday, June 4th, 2017, 1:40 PM at the Westin – Voice Pedagogy Session IA
Vocal Dose, Hearing Dose, and Voice Changes of a Karaoke Singer: A Case Study
Matthew Schloneger, Jonelyn Langenstein, Eric Hunter
Many thanks to the Van Lawrence Fellowship Committee:
Robert T. Sataloff , MD; Chair, Julie M. Barkmeier-Kraemer, PhD; Matthias Echternach, MD; Brian Horne, DM; Jeffrey Lehman, MD; Linda Snyder, DMA

The Van L. Lawrence Fellowship was created to honor Van L. Lawrence, M.D. for his outstanding contribution to voice, and particularly to recognize the importance of the interdisciplinary education he fostered among laryngologists and singing teachers. It is awarded jointly by The Voice Foundation and National Association of Teachers of Singing Foundation. The Fellowship winner will be provided with the opportunity to attend the annual Symposium on Care of the Professional Voice and visit laryngologists, speech pathologists, voice scientists, and research centers associated with The Voice Foundation during the fellowship year, with resulting research to be considered for expedited publication in the Journal of Voice or Journal of Singing. The Fellowship winners are members of the National Association of Teachers of Singing who are actively engaged in teaching, have demonstrated excellence in their profession as singing teachers, and have shown interest in and knowledge of voice science. The Fellowship and $2000 award are intended to provide opportunities for the Fellow to become more thoroughly acquainted with practices, techniques, technology and people involved in laryngology and voice science. It is hoped that the opportunities and contacts provided through the Fellowship experience will enhance the teacher's ability to do meaningful interdisciplinary research, and will encourage the teacher to apply appropriate voice science advances in the studio.
Save