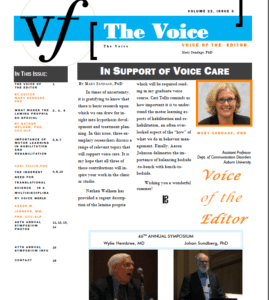 IN SUPPORT OF VOICE CARE
What DOES make the Lamina Propria so special? What exactly does motor learning have to do with singing and therapy? And, what in the world is Translation Science?
Check out this summer's newsletter In Support of Voice Care. Thanks to our editor Mary Sandage and authors Nathan Wehlan, Cari Tallis and Aaron Johnson for this excellent food for thought. – Not to mention the fun pictures from the 46th Annual Symposium.
Page 1
The Voice of the Editor
by editor Mary Sandage, PhD
Page 2, 3, 4
What Makes the Lamina Propria So Special?
By Nathan Wehlan, PhD, CCC-SLP
Page 5, 6, 7
Importance of Motor Learning in Habilitation and Rehabilitation
By Cari Tellis, PhD
Page 8, 9, 10

The Inherent Need for Translation Science in a Multidisciplinary Voice World By Aaron Johnson, PhD, CCC-SLP, MM

Page 11, 12, 13, 14
Pictures: 46th Annual Symposium
Page 15
47th Annual Symposium Info
Page 16
Contact Info
Save
Save