Seattle/Northwest Chapter meeting 12/2/2013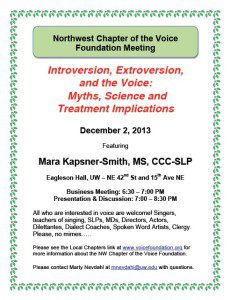 Hi all you voice enthusiasts! The holidays are upon us but before you get too tied up with all the craziness, remember that we have a NWCVF meeting and great presentation planned for December 2nd. The title of our presentation is "Introversion, Extroversion, and the Voice: Myths, Science and Treatment Implications" and will be presented by Mara Kapsner-Smith, MS, CCC-SLP, Clinical Instructor in the UW Speech and Hearing Sciences department. See the flyer below. We'll meet at the usual location (Eagleson) at the usual time (6:30pm for the business meeting; 7:00pm for the presentation).
Hope to see you all there. Bring a friend or two or three!