Sataloff New Investigator Award
Pravin Kumar Subbaraj, Ph.D., a Two-Time Winner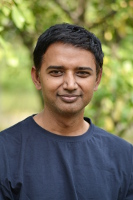 For the first time since we have been offering awards, the same person has won two different awards in one year. On behalf of Elsevier; Dr. Norman Hogikyan and the Sataloff Award Committee; Dr. Michael Johns and the Advisory Board; Dr. Robert Sataloff, Chairman; and all of us at The Voice Foundation –  congratulations!
It is a particularly great pleasure to announce the 10th Annual Sataloff Award recipient for the research –
Evaluation of Sharpness of Lateral Peaks of the Vocal Fold Vibrations in High-Speed Videokymographic Images
(Pravin Kumar Subbaraj, PhD, Ketaki Vasant Phadke, MSc, Jitka Vydrová, MD, Adam Novozámský, MEng, Barbara Zitová, PhD, Jan G. Svec, PhD et PhD)
Congratulations, Dr. Subbaraj!
The Award will be presented on Saturday, June 2nd at 11:00AM
Chair: Robert Thayer Sataloff, MD, FACS
The Westin Philadelphia Hotel: Grand Ballroom
Dr. Subbaraj's paper will be presented at the 47th Annual Symposium: Care of the Professional Voice on Thursday,May 31st at 2:30pm at The Westin Philadelphia Hotel, Philadelphia as part of the BASIC SCIENCE SESSION IV (2:30PM-4:00PM) Methodological Advances in High Speed Video Analyses.
The Advisory Board is chaired by Dr. Michael M. Johns, III and the 2018 Sataloff New Investigator's Award (sponsored by Elsevier, Inc.) committee members included Norman Hogikyan, MD, Chair, Kristiane van Lierde, PhD, Denis LaFreniere, MD, David Rosow, MD.