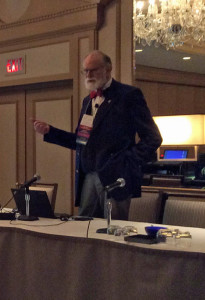 Here you will find:
43rd Annual Symposium Tutorials 2014
Anatomy and Physiology of the Voice –Robert Sataloff, MD, DMA, FACS
Neural Control of Voice and Neurological Voice Disorders – Christy Ludlow, PhD
Sessions for Injured vs. Healthy Singing Voice – Margaret Baroody, MM Voice Specialist
Basic Phonatory Function with Emphasis on Visual Methodologies -Ron Scherer, PhD
Perception of Voice – Tanya Edie, PhD
Voice and Resonance – Johan Sundberg, PhD
Panel Q & A – Sataloff, Ludlow, Baroody, Scherer, Edie, Sundberg
Voice Disorders Lecture

Voice Disorders, Part 1 – Robert Sataloff, MD, DMA, FACS
Voice Disorders, Part 2 -Robert Sataloff, MD, DMA, FACS
Stroboscopy Oscars 2014
Some of the most astounding laryngeal strobes you will ever see!

Historical Lectures
with giants in the field:  Jean Abitbol, M.D., Hans von Leden, M.D. and G. Paul Moore, M.D, Minoru Hirano, M.D.,  Nobuhiko Isshiki, M.D., Robert J. Feder, M.D., F.A.C.S.,  Murray D. Morrison, M.D, Carole Bloch, M.A.