SYMPOSIUM INDEX: ←All you need to know is found here
Poster Guidelines & Design | Digital Poster |  Poster Printing | Poster-Making & Poster Presentation Links | Poster Presentation Coaching |  2018 Poster Session | TVF_LargePosterInstructions
POSTER SESSION
Thursday, May 30, 2019 at 4:00pm – 6:00pm in two parts, I and II.
You will be notified whether you will present in session I or II.
Presenters must be in place by their posters and ready at the time assigned.
The following are the requirements for posters presented at our 48th Annual Symposium: Care of the Professional Voice
Digital Poster
A digital copy of ALL posters should be submitted via email no later than May 1st.
To be included in the poster contest and show your poster digitally on Saturday and Sunday, please submit a high-quality, one page, digital copy of your poster in .pdf format to the Voice Foundation office (office@voicefoundation.org) no later than May 1.
Poster-pdfs emailed after that date will not be entered into the poster contest
Remember to save your PDF as "high quality" (not for web!)
POSTER GUIDELINES AND DESIGN
See links below. Remember to practice presenting your research. Take advantage of our (free) Poster Presentation Coaching
Poster Board Size:
The poster boards are 4 feet tall and 6 feet long
Posters can be any size, as long as they will fit within those dimensions
Standard poster size is 3ft x 4ft (36″x 48″), but you can use a bigger size as long as it fits on the board
Please submit a one page digital copy of your poster in .pdf format to the Voice Foundation office (symposium@voicefoundation.org) no later than May 1 for display as of Saturday. Poster presenters who do not submit a digital copy may not be included in online information or the digital portion of the poster session
When you save as a .pdf, make sure to choose the option "standard quality" or "high-quality".
Poster boards need to be removed at 12:15 PM on Friday
Poster Printing

You can bring your printed poster with you
You can have your poster printed and laminated at the local Staples when you arrive in Philadelphia
You can send your poster in advance to

The Westin Philadelphia Hotel

c/o Rebecca Boulay

The Voice Foundation's Symposium (5/29-6/2))
99 South 17th Street

Philadelphia, PA 19103 USA
Creating Large Format Posters Using PowerPoint
You will be making just one slide (or page) in PowerPoint. One really big slide! Using Microsoft Office PowerPoint 2007 or greater, click on the Design tab at the top and then "Page Setup."
Under "Slides Sized for:" choose "Custom." In the Page Setup pop-up menu, set the page size to the same size that you want your poster to be.
Be sure to verify the poster size requirements for the meeting where your poster will be displayed. Failure to do so may result in a poster that is not printable at the size you need. The page size needs to be set before you start your poster layout.
| | | | | |
| --- | --- | --- | --- | --- |
| Finished Poster Size | | Page Size in PPT | | Enlargement when printed |
| 36″ x 48″ | | 36″ x 48″ | | 100% |
| 36″ x 56″ | | 36″ x 56″ | | 100% |
| 36″ x 60″ | | 18″ x 30″ | | 200% |
| 36″ x 72″ | | 18″ x 36″ | | 200% |
| 48″ x 56″ | | 48″ x 56″ | | 100% |
| 48″ x 60″ | | 24″ x 30″ | | 200% |
| 48″ x 72″ | | 24″ x 36″ | | 200% |
| 48″ x 84″ | | 24″ x 42″ | | 200% |
| 48″ x 96″ | | 24″ x 48″ | | 200% |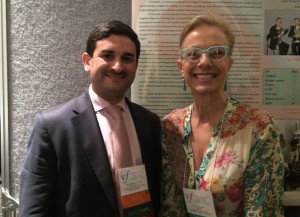 Files can only be enlarged or shrunk proportionally for printing (it's not advisable), so be sure the aspect ratio of your page size in PowerPoint matches that of the final poster size. Note: If you change the page size after creating the poster, it can create problems. Text may be hidden by inserted figures so proof the poster thoroughly. Do not allow text or pictures to hang over the edge of the poster or they will be cropped off when printed. Note that inserted images will be scaled out of proportion because of the change in page size. To resize the images, right-click on the image and select "Size and Position." Click on the "Size" tab, if not already selected, and make sure the scale percentage is the same for height and width. (e.g., 100% height and 100% width).

Poster-Making Links