VOICES OF SUMMER GALA
Friday, May 30, 2015
Philadelphia Westin Hotel
Click on the photographs to see the larger version.
2015 Gala & Press
2014 Gala & Press
2013 Gala & Press
2012 Gala & Press

Honorees were Joel Grey, Stacy Keach and Dolora Zajick
Joel Grey, honored with the Sackler Award, is pictured right with Dr. Robert Sataloff, Chairman of TVF.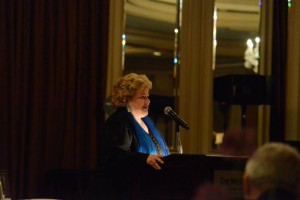 Dolora Zajick accepted the 2015 Voice Education Research Awareness Award (VERA).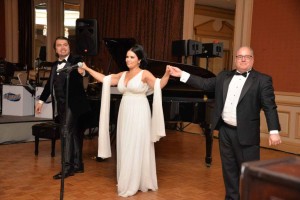 Eglise Guiterrez and Burak Bigili entranced the audience with their singing, wonderfully accompanied by Richard Raub.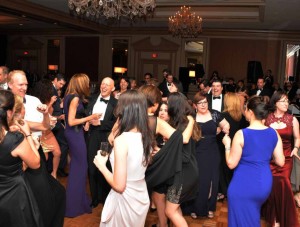 An enthusiastic audience danced till the wee hours to the Next Generation Swing Band.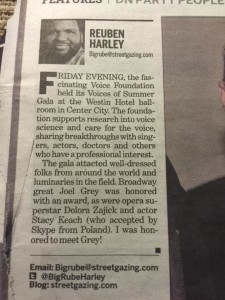 Ruben Harley writes about The Fascinating Voice Foundation in the Philadelphia Daily News.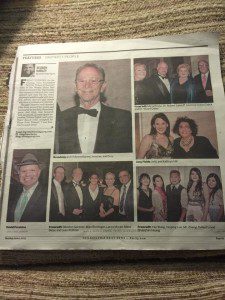 2015 Honoring
Joel Grey,  Stacy Keach  & Dolora Zajick
Entertainment
Eglise Gutierrez & Burak Bilgili
Recent video recording from Rossini's Il Turco in Italia duet "Bella in Italia"
2015 V.E.R.A. Awards
Hailed as a "force of nature" (Variety), Dolora Zajick has been internationally acclaimed as that rare voice type, a true dramatic Verdi mezzo-soprano, typified by the composer's most famous and difficult mezzo-soprano roles. In addition to her outstanding performance career, Dolora is a passionate vocal pedagogue, having founded the Institute for Young Dramatic Voices in 2006, a vocal training program for large or unusual voices designed to help nurture their development according to their unique needs, and to help these young singers reach the world stage.
In addition to his motion picture and television accomplishments, Stacy is one of America's most acknowledged Shakespearean actors, also celebrated in England where the Bard is in the blood. A New York Time's review dubbed him "The Finest American classical actor since John Barrymore." He's received two Best Actor Golden Globes, been nominated for Emmy and Tony awards, won three Obie's, three Vernon Rice awards, the Helen Hayes Award, and the Prestigious Millineum Recognition Award for his outstanding contribution to the classical theatre.  Understandably, his Shakespearean readings (sold on his popular website (www.StacyKeach.com) are among the nation's best-selling classical CD's.
He portrayed Mike Hammer in the CBS television series Mickey Spillane's Mike Hammer and The New Mike Hammer from 1984 to 1987. He returned to the role of Hammer in Mike Hammer, Private Eye, a new syndicated series that aired from 1997 to 1998.
Stacy Keach has been the Honorary Chair of the Cleft Palate Foundation (CPF) for the past 25 years.
2014 Sackler Awards
The son of comedian Mickey Katz, Grey was only nine years old when he made his professional stage debut at the Cleveland Play House. In 1966 he won a Tony Award for his portrayal of the emcee of a seedy 1930s Berlin nightclub in the Broadway musicalCabaret.He reprised the role for the film version, where his sardonic performance offered both a comic escape from and a chilling commentary upon the rise of Nazism depicted in the story and for which he won an Academy Award. In addition to winning a Tony for Cabaret, he has earned Tony nominations for his leading roles in the musicals George M! (1969), Goodtime Charley (1975), and The Grand Tour (1979).
Grey has continued to make occasional appearances in films, giving excellent performances in Kafka (1991) and The Music of Chance (1993), among others. Grey's daughter Jennifer starred in the film Dirty Dancing (1987). In 2010, he made his Broadway directorial debut with The Normal Heart while also appearing in Anything Goes. Other Broadway credits include the 1996 revival of Chicago and Wicked.