VOICE, The Original Social Media
TVF and Chapter Events | History and Mission | world-voice-day.org
TVF Events in 2015

Philadelphia PECO Crown Lights display flashing: Celebrate World Voice Day 4/16 www.voicefoundation.org"
Where: PECO Building, 2301 Market Street, Philadelphia, PA 19103
When: Wednesday, April 16th, all day
Expected audience: Philadelphians

Vocal Health for Teens:
Hosted by:  Philadelphia Girls Choir
Who: Michelle Horman, MA, CCC-SLP instructs the teens in the Philadelphia Girls Choir Concerto group about vocal health.
When:  4:30pm , April 16th
Where:  1336 Spring Garden StreetPhiladelphia, PA 19123

Concert and Reception: Can't Help Lovin' That Voice (of Mine)
Hosted by:  AVA's Daniel Pantano
WVD Mission Talk: Dr. Robert Sataloff
Who: Singers from The Voice Foundation and PENTA
When:  6:30pm , April 16th
Where:  Academy of Vocal Arts, 1920 Spruce St. Philadelphia, PA
TVF Events in 2014

Philadelphia PECO Crown Lights display flashing: Celebrate World Voice Day 4/16 www.voicefoundation.org"
Where? PECO Building, 2301 Market Street, Philadelphia, PA 19103
When? Wednesday, April 16th, all day
Expected audience? Philadelphians

Philadelphia Ear, Nose and Throat VOICE SCREENINGS sponsored by MusiCares, the philanthropic arm of Grammy.
Eligibility: at least 5 years as a paid music professional and we do look at financial status/insurance however each case is considered on an individual basis.  
Dr. Robert Sataloff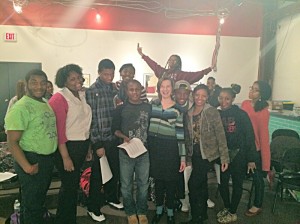 1721 Pine Street, Philadelphia, PA 19103
Dr. Karen Lyons
Dr. Amanda Hu
219 N. Broad St., Philadelphia, PA

USE IT WELL Voice Workshop for After-School Musical, a Philadelphia School district-wide production of the Broadway Classic, Dreamgirls.

Michelle Horman, CCC-SLP  (PENTA Voice Clinic) and Donna Snow, MA (Temple University Theater Professor) conduct a workshop concentrating on the healthy use of the voice for the participants of this novel program. Over 40 high school students from various schools all over the city are participating. This pilot program gives students, who would not have the opportunity, a chance to perform in a musical.  They will also be working side by side
with theatre professionals from Philadelphia and the Broadway community.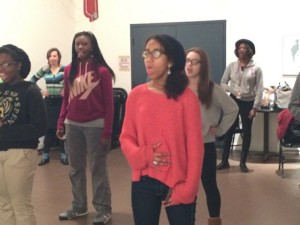 Spectators Welcome!
Where: The Painted Bride Art Center  230 Vine St, Philadelphia, PA 19106
When: April 16, 2014 3:30 pm

Since its inception in 2002, World Voice Day April 16 is a worldwide annual event devoted to the celebration of the phenomenon of voice.
The aim is to demonstrate the enormous importance of the voice in our daily life, as a tool of communication, and as an application of a large number of sciences, such as physics, psychology, phonetics, art, and biology.
The celebration of the World Voice Day is scattered around the globe, including concerts, symposia, open house at voice clinics and voice education institutes, TV shows, radio programs, flash mobs etc.
Please call us at 215-735-7999 or email office[@]voicefoundation.org for more World Voice Day information
TVF Events in 2013
SCREAM! – Melissa Cross Master Class
Who participated? Singers of rock music.
Where? Academy of Vocal Arts, 1920 Spruce Street, Philadelphia, PA 19103
When? Saturday, April 6th at 6PM
Expected audience? Vocalists and voice teachers.
Philadelphia PECO Crown Lights display flashing:
Celebrate World Voice Day 4/16 www.voicefoundation.org"
Where? PECO Building, 2301 Market Street, Philadelphia, PA 19103
When? Saturday, April 14th – 16h, all day
Expected audience? Philadelphians
Polygon Comedy Musical Variety Show
Who all is participating? Local comedians and vocalists
Where? L'Etage Tuesday, just above Beau Monde at 6th and Bainbridge, right off of South Street in Philadelphia.
When? Tuesday, April 16th. Doors open at 7:30 PM, show starts at 8PM.
Expected audience? Fans of musical comedy.
Vocal Health for Teachers Seminar
Who all is participating? Dr. Robert Sataloff, Margaret Baroody, Bridget Rose, Stephanie Fort, Donna Snow, Dr. Ellery Panaia, Heidi Brown
Where? New College Building – Multipurpose room 3506-10, Drexel University, 245 N. 15th Street Philadelphia, PA 19102
When? Saturday, April 20th, 9 AM – 4 PM
Expected audience? Teachers, all levels
Other pertinent information about the activity: Dress comfortably, possible floor exercises.