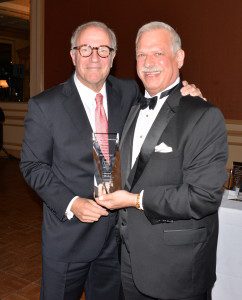 The Tony Randall Award
The Voice Foundation established an award in honor of our beloved President Emeritus, Tony Randall.
View our Pintrest Board featuring past award recipients.
2015

Dr. Stuart Orsher was presented with the second Tony Randall Award
2008
Eli Wallach was honored with the first Tony Randall Award at the Voices of Summer Gala.
In Memory of Tony Randall (1920-2004)
Our beloved friend and President, Tony Randall , achieved his dream with the 1991 launching of his National Actors Theatre. For over a decade, he worked tirelessly to raise the money necessary to develop his idea and now his dream is a reality. But this did not cause Randall to retire from the areas of acting for which he had become known. As a matter of fact, he became Artistic Director of the company and an actor and director as well. Tony Randall was a comedian. That was evident through his television successes-from "Mr. Peepers" to "The Odd Couple", as well as brilliant movie comedy roles, and the theatre.
However, the Emmy Award-winning actor was more than a funny man.  He was one of the more erudite and accomplished conversationalists. He was an authority on opera and a serious student of the theatre and art. Yes, he broke you up with laughter as the fastidious Felix of "The Odd Couple" or in the Doris Day comedies, but there was also something very human and touching about those baffled characters he played. Moreover, when he had the opportunity, as in Broadway's "M. Butterfly" or such a movie as "No Down Payment," he created a characterization.  Consider, for example, his funny and poignant characterization in "Love, Sidney," the TV series spin-off of his memorable "Sidney Schorr" performance. In 1998, Tony Randall was  inducted into the prestigious Theatre Hall of Fame.
Throughout his career, Tony used his distinctive voice, keen intellect and unfailing humanitarianism to help friends, enhance the quality of acting, and further the cause of voice education and research.  His contributions cannot be counted, and they will continue to enhance our field and enrich our lives for generations to come.