Gisele Oliveira Award for SLP Students
Passing It Forward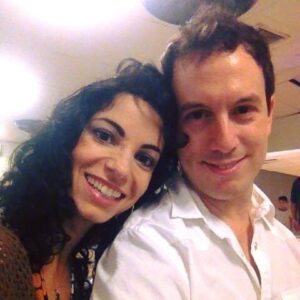 Gisele Oliveira was an extraordinary, young, professional figure and human being, a dear member of The Voice Foundation who died at the age of 45 after a battle with aggressive cancer. In her honor, and in recognition of her deep love and dedication to her SLP students, her husband, Gaetano Fava created the GISELE OLIVEIRA AWARD for best masters-level SLP student presentation at The Voice Foundation's Annual Symposium: Care of the Professional Voice.
Sponsorship and Committee
As of 2022, Dr. Adam Rubin is the sole sponsor of the Gisele Oliveira Award. Our thanks to Dr. Rubin for his support and for the hard work of the Award Committee.
Committee Chair: Shaheen N. Awan
Committee members: David Eddins, Jeannette LoVetri, Lyndsay Madden, Deanna McBroom, Stephanie Misono
"Life gets hard, but just remember to always love harder." Dr. Gisele Oliveira

ATTENTION: SLP Master's Level Symposium Presenters
Attention: Symposium Presenters / Authors
The Voice Foundation Symposium will be awarding the Gisele Oliveira Award for masters-level students in SLP.
If you or your student is interested in applying, we would appreciate it if you could please send a letter of intent responding to the following questions (as appropriate), and send it to Ian DeNolfo at [email protected] by March 1, along with the abstract for your presentation. Please send this all in one PDF.
Is your accepted paper/poster derived from a Master's Thesis or an academic independent dependent study? Yes/No
If yes, would you like this paper/poster to be considered for a "Best Student Paper/Poster Award"? Yes/No
If yes, please provide a detailed description of your role (the student's role) in the overall project, as well as a description of the role of any other collaborators (including his/her advisor).
Include the title of your project.
Submit a copy of your final power-point presentation (for poster or oral presentation) by May 1st.
Our thanks to Gaetano Fava for his support and the Award Committee, Amanda Gillespie, PhD, Lindsay Reder, MD, and Eva van Leer, PhD for their hard work.
2023
Natalie Tyrey Garvin (United States)
Investigation of the Efficacy of an Integrative Treatment Method for Chronic Cough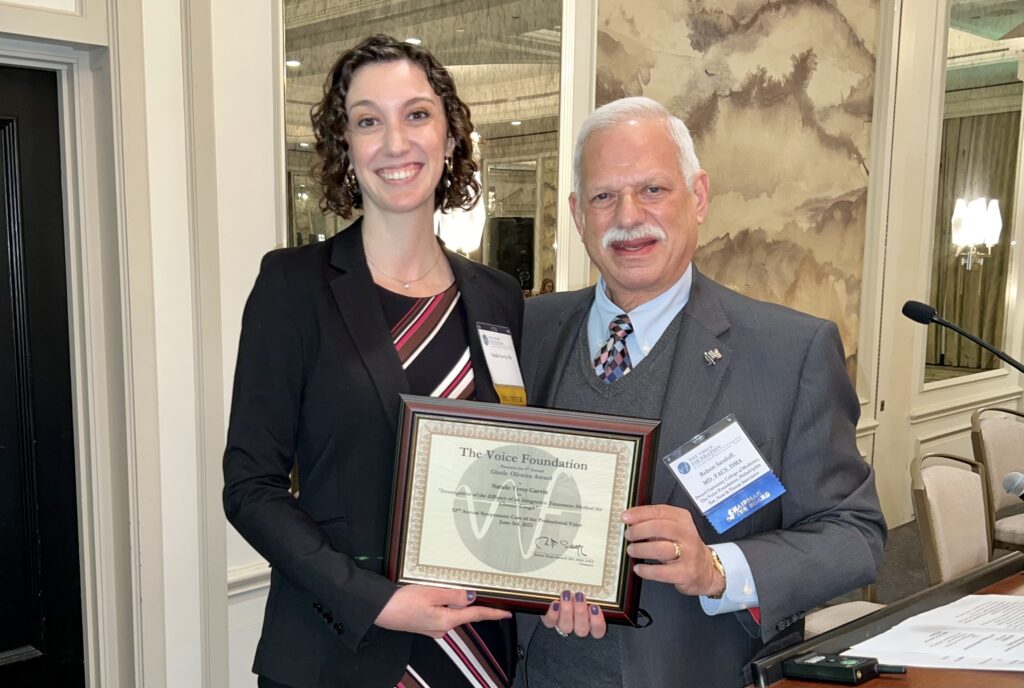 2022
Clara Leyns, MSc (Belgium)
Short-term Acoustic Effects of Speech Therapy in Transgender Women
&
Effects of Speech Therapy for Transgender Women: A Systematic Review
2017
Ketaki Vasant Phadke (Czech Republic)
Contribution of High-Speed Videokymography to Diagnosis of Voice Disorders – A Clinical Study
Ketaki Vasant Phadke, Jitka Vydrová, Jana Dubová, Eva Vitásková, Romana Domagalská, Jan G. Svec (Czech Republic)
2016
Luca Carozza (Italy)
Development and Validation of the Singing Fatigue Handicap Questionnaire (SFHQ)
Save
Save
Save
Save