The Voice Foundation hosts The 47th Annual Symposium-Care of the Professional Voice and Voices of Summer Gala

Press Release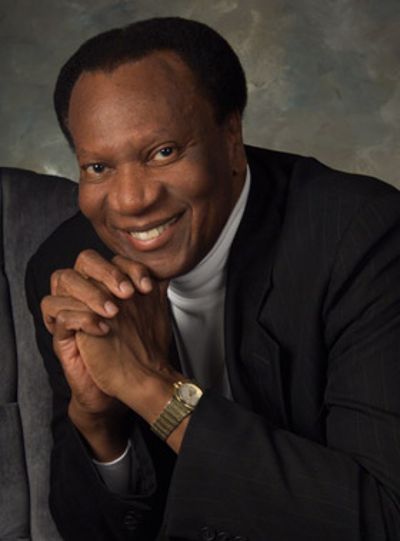 Operatic superstar, bass-baritone SIMON ESTES and WALTER WILLIAMS of Rock & Roll Hall of Famers, The O'Jays to be honored in Philadelphia
KAREN HEPP and LAUREN JOHNSON, popular anchors of Fox29's Good Day Philadelphia show, will receive VERA Awards for their contribution to vocal health education.
On the Love Train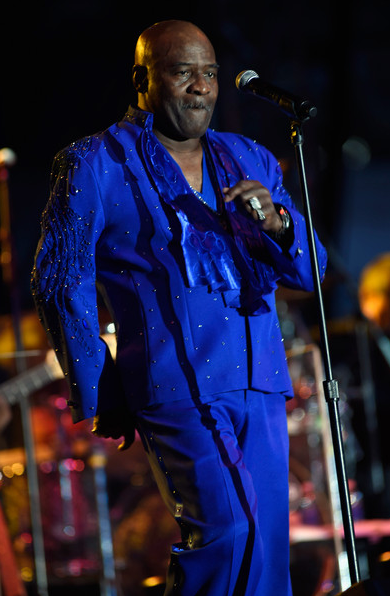 Simon Estes, Walter Williams, Karen Hepp and Lauren Johnson
to be honored in Philadelphia!
The Voice Foundation's annual Voices of Summer Gala will take place on Friday, June 1st at 6:00 p.m. at the Westin Philadelphia. The black-tie event will include Voice Education Research Awards (VERA) to two international singers from different disciplines: Simon Estes a world-renowned Opera Singer and Walter Williams, lead singer of R&B greats, the O'Jays.
Robert Thayer Sataloff, M.D., D.M.A., F.A.C.S., Chairman of the Board
Justice Sandra Schultz Newman, Gala Chair
Cocktails 6:00pm
Dinner * Awards * Concert * Dancing
Dominick Chenes, tenor, will sing at the event.
Dancing to The New Generation Swing Band
The Westin Hotel Philadelphia
99 S. 17th Street
Philadelphia, PA 19103
For TICKETS or more information, please contact the Voice Foundation at (215)735-7999 or office@voicefoundation.org, or visit our website at https://voicefoundation.org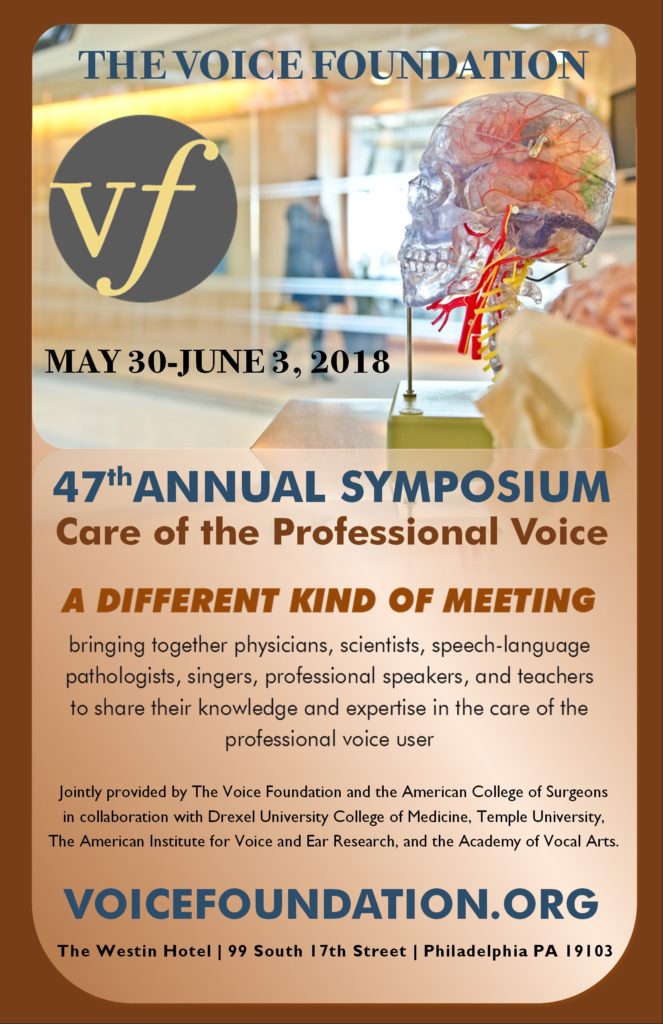 The Voice Foundation's 47th Annual Symposium: Care of the Professional Voice will be held MAY 31 – JUNE 3, 2018 at the Westin Philadelphia. The Voice Foundation's symposium brings together top vocal health professionals for a unique, interdisciplinary opportunity to share the latest advances in scientific and medical voice research.
On Wednesday, May 31st at 10:15am. the Quintana Research Award Lecture, Biomaterials and Strategies for Permanent Vocal Fold Lamina Propria Repair and Reconstruction, will be given by Luc Mongeau, PhD. Dr. Mongeau joined the Dept. of Mechanical Engineering at McGill University in 2006, where he conducts research on tissue engineering of the human larynx for voice restoration. He presently holds the Tier I Canada Research Chair in Voice Biomechanics and Mechano-biology.
The Keynote Speech, The Brain That Learns To Sing and Is Changed By It, will be given by
Boris Kleber Aarhus, PhD, Dr. Kleber is assistant professor at the Center for Music in the Brain, Aarhus University (Denmark), integrating his previous work on vocal motor control and interoception with the concept of predictive coding.
A series of hands-on VOCAL WORKSHOPS will take place at the Academy of Vocal Arts on Friday afternoon, June 1st, from 1:30 – 5:30 p.m. Workshop presenters will address a variety of voice-related topics, including body movement, the injured singing voice, classical singing, musical theatre, pop and the acting voice, in an open program that encourages audience participation.
The G. Paul Moore Lecture, Doing No Harm, will be given on Saturday, June 2nd at 11:10am by Nicolas Maragos, MD. He joined the Mayo Clinic Otorhinolaryngology staff upon graduation in 1977 and is an Emeritus Consultant of Otolaryngology – Head and Neck Surgery at Mayo since his retirement in 2010.
On Saturday, May 30th at 7:30 p.m. Metropolitan Opera Bass-Baritone Simon Estes will give a Master Class to student opera singers.
In addition to these highlights, doctors, scientists, speech-language pathologists, singing teachers and students from across the globe will present new research about vocal production and techniques for the treatment of voice disorders.
Advancing understanding of the 
voice

 through interdisciplinary

scientific research & education

The Voice Foundation is the world's leading organization dedicated to the care and training of the human voice. For more information, including the complete program, or to register to attend, please contact the Voice Foundation at (215)735-7999 or office@voicefoundation.org , or visit our website at www.voicefoundation.org.