Electronic manuscript submission is mandatory at Evise
Editorial Office
Electronic Submissions: HERE
Email: journal@voicefoundation.org (general correspondence)
Please address all non-Internet correspondence to:
Robert T. Sataloff, M.D., D.M.A., F.A.C.S.
Editor-in-Chief, Journal of Voice


219 N. Broad Street, 10th floor
Philadelphia, PA 19107
Telephone: 215-735-7999
Fax: 215-762-5572
Scope
The Journal of Voice includes clinical and research articles that are of interest to all professionals of all backgrounds. Papers are solicited on all aspects of voice, including basic voice science, acoustics, anatomy, synthesis, medical and surgical treatment of voice problems, voice therapy, voice pedagogy, and studies in other areas that increase the knowledge of normal (including performance) and abnormal vocal function in adults and children. Review articles will a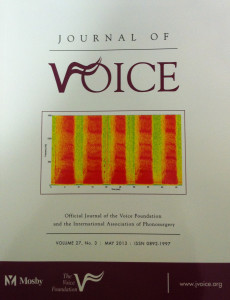 lso be considered.
Manuscript Submission
All manuscripts must be submitted via the Elsevier Editorial System here at EVISE . You will be instructed to enter the manuscript title, type, authors, abstract, and keywords and to upload your cover letter, manuscript text (including references, figure legends, etc.), and figures (see below for further information on figures). It is advisable to save the complete manuscript as a word-processing document (MS Word is preferred) and then upload it into EES.
All materials submitted for publication, including solicited articles and supplements, are subject to editorial review and revision. Only previously unpublished material will be considered for publication. Material submitted to the Journal must not be under consideration for publication elsewhere. All accepted manuscripts become the property of the Journal and may not be reproduced without the written permission of the Editor and the Publisher.
Copyright
In compliance with current U.S. Copyright law, transfer of copyright from author to publisher or its designee must be explicitly stated in writing to enable the publisher to assure maximum dissemination of the author's work. A copy of the agreement, executed and signed by the author(s), is required with each manuscript submission. The form to be used is available from the Editor and Publisher. No manuscript can be published without a signed copyright transfer.
Form of Manuscript
Manuscripts should be submitted in English. The paper should be divided into sections with appropriate section headings. Pages must be numbered sequentially with the first page of the manuscript being page 1 (title page and abstract page are not numbered). Authors are cautioned to type, where possible, all mathematical and chemical symbols, equations, and formulas and to identify all unusual symbols the first time they are used. Author(s) will use the American Medical Association Manual of Style, 9th ed., as a reference guide for writing purposes.
Cover Letter
Please include a cover letter indicating the name, mailing address, email address, telephone number, and fax number of the person to whom correspondence, proofs, and reprint requests are to be sent.
Title Page
The title page should contain the title, list of authors with affiliations, and complete mailing address, email address, telephone number, and fax number of the author to whom correspondence, proofs, and reprint requests are to be sent. If the research was presented at a meeting, the name of the meeting, location, and date should be given.
Abstract
The abstract must be included twice–once alone, where indicated by EES, and once as a part of the whole manuscript. It should be factual, comprehensive, and presented in a structured abstract format. Limit the abstract to 250 words. Do not cite references in the abstract. Limit the use of abbreviations and acronyms. Use the following subheads: Objectives/Hypothesis, Study Design (randomized, prospective, etc.), Methods, Results, and Conclusions. Abbreviations and general statements (e.g., "the significance of the results is discussed") should be avoided.
Body of Paper
The beginning of the manuscript should be an introduction to the topic discussed including references to related literature, followed by a statement of the purpose and, where applicable, specific questions to be answered by the research. Typically, this section is followed by labeled sections with a sequence similar to Methods, Results, Discussion, and Conclusions.
References
References should follow the "Uniform Requirements for Manuscripts Submitted to Biomedical Journals" (http://www.icmje.org/ ). References are to be supplied in order of citation in the text, numbered consecutively, and typed double-spaced. Sample references are given below of a journal article and a book.
1. Sataloff RT. Professional singers: the science and art of clinical care. Am J Otolaryngology. 1981;2: 251-266.
2. Sataloff RT, Myers DL. Cancer of the Ear and Temporal Bone. In: Gates, Ed. Current therapy on Otolaryngology- Head & neck surgery. 3rd ed. Toronto and Philadelphia: B.C. Decker; 1987:157-160.
Volume and issue numbers, specific beginning and ending pages, and name of translator should be included where appropriate.
Journal title abbreviations should follow the practices of Index Medicus. Provide all author names when there are seven or fewer co-authors. If there are more than seven co-authors, list only the first three and use et al. Authors are responsible for the bibliographic accuracy of all references. "Personal communications" and "unpublished observations" should be indicated within the text but excluded from the reference list (such communications and observations should be used only with the permission of those cited).
Symbols and Abbreviations
Use of symbols and abbreviations should conform to those provided by professional standards publications such as the American National Standard Letter Symbols and Abbreviations for Quantities Used in Acoustics Y10.11-1984, and the American National Standard Acoustical Terminology S1.1-1994. These two publications are available from the American National Standards Institute, 11 West 42nd Street, New York, NY 10018, 212-642-4900.
Accuracy of Data
For all studies dealing with instrumental quantities, a statement of the "error of measurement" should be included. For studies dealing with judgments, a statement concerning the procedure for determining the "reliability" of the judgments is expected.
Glossary
Authors are encouraged to define or explain jargon, and technical or novel language (or expressions) for terms not commonly known across the audiologic professions. These terms and explanations can be placed in a glossary table. If few, the terms can be explained in the text.
Tables
All tables must be cited sequentially in the text, numbered, and supplied with suitable explanatory legends and headings. Tables should not be supplied typed within the body of the manuscript. They must be separately uploaded into EES. Tables should be self-explanatory and should supplement, rather than duplicate, the material in the text.
Figures and Illustrations
All figures and illustrations must be cited sequentially in the text, numbered, and supplied with legends. Figures, illustrations, and legends should not be supplied within the body of the manuscript. Each individual figure must be separately uploaded into EES. Legends to figures should be brief, specific, and explanatory. They should not unduly repeat information already given in the text. Magnification and stain should be provided where appropriate. All photographs and illustrations documenting any postoperative change must be labeled with the postoperative interval.
Figures should be submitted in electronic format, preferably in EPS or TIF format. Figures should be created using graphics software such as Photoshop or Illustrator. DO NOT USE PowerPoint, Corel Draw, or Harvard Graphics. COLOR figures submitted with the manuscript will appear in black and white in print unless the author agrees to pay fees associated with color reproduction. They will appear on the website in color at no extra charge. When color images appear in print in black and white, the black and white contrast will diminish, so choose distinct color contrasts and/or patterns for best conversion to black and white images.
If a color image is accepted for print, it must meet the following specifications: CMYK at least 300 dots per inch (DPI). Gray scale images should be at least 300 DPI. Combinations of gray scale and line art should be at least 600 DPI. Line art (black and white or color) should be at least 1200 DPI. The author may be responsible in part for costs associated with reproducing illustrations in color and special artwork. Information on the extra charges can be obtained by calling Elsevier at 1-800-325-4177.
For manuscripts that contain PHOTOGRAPHS OF A PERSON, submit a written release from the person or guardian, or submit a photograph that will not reveal the person's identity (eye covers may not be adequate to protect patient identity).
If a figure has been taken from previously copyrighted material, the legend must give full credit to the original source, and letters of permission must be submitted with the manuscript. Articles appear in both the print and online versions of the Journal, and wording of the letter should specify permission in both forms of media. Failure to get electronic permission rights may result in the images not appearing in the online version.
Proofs and Reprints
All manuscripts are subject to copyediting. The corresponding author will receive page proofs to check the accuracy of typesetting. Authors may be charged for any alterations to the proofs beyond those needed to correct typesetting errors. Corresponding authors will receive an e-mail with a link to our ProofCentral system, allowing annotation and correction of proofs online. The environment is similar to MS Word: in addition to editing text, you can also comment on figures/tables and answer questions from the Copy Editor. Web-based proofing provides a faster and less error-prone process by allowing you to directly type your corrections, eliminating the potential introduction of errors. If preferred, you can still choose to annotate and upload your edits on the PDF version. All instructions for proofing will be given in the e-mail we send to authors, including alternative methods to the online version and PDF. We will do everything possible to get your article published quickly and accurately – please upload all of your corrections within 48 hours. It is important to ensure that all corrections are sent back to us in one communication. Please check carefully before replying, as inclusion of any subsequent corrections cannot be guaranteed. Proofreading is solely your responsibility. Note that Elsevier may proceed with the publication of your article if no response is received. The author is responsible for all statements in the article.
A reprint order form will be sent to the corresponding author when the article is sent to the publisher for publication. Reprints are normally shipped four to six weeks after publication of the issue in which the article appears.
Proofs, reprints orders, and all inquiries concerning items in production should be sent to Issue Management, Elsevier, 1600 JFK Blvd., Suite 1800, Philadelphia, PA 19103-2899; Tel: 800-523-4068.
Peer Review
Manuscripts received by the Journal are read by two or three reviewers who are knowledgeable in the topic in question. The role of the reviewer(s) is to read the manuscript critically, comment on possible or needed changes, and assist the Editor in making a decision concerning the acceptance or rejection of the manuscript for publication. Final page proofs sent to the author( s) can be changed only minimally.
Research Subjects
Research studies reported in manuscripts submitted to the Journal of Voice must abide by the ethical principles for the protection of human and animal subjects. The Journal endorses those principles found in the Belmount Report: Ethical Principles and Guidelines for the Protection of Human Subjects (1979, Office of the Protection from Research Risks Report, Bethesda, MD: U.S. Dept. of Health and Human Services); the Guide for the Care and Use of Laboratory Animals (DHEW Publication No. (NIH) 80-23, Revised 1978, Reprinted 1980, Office of Science and Health Reports, DDR/NIH, Bethesda, MD 20205); and the World Medical Association Declaration of Helsinki guidelines (JAMA. 1997;277:925-926). To be considered for publication, studies involving human research subjects ordinarily require a statement indicating Institutional Review Board approval and/or compliance with the Guidelines specified.
Register and submit your manuscript: EVISE