50th Anniversary Symposium:
Care of the Professional Voice
June 2 – June 6, 2021

WELCOME TO THE 50th ANNIVERSARY
VIRTUAL EDITION!
Check In | Session Schedule | Symp Program | Symposium Registration | Workshop List |  Faculty Disclosures | Continuing Education Credits | Workshop Abstracts | Master Class |

CME and CEUs  Will be counted only during the live virutal symposium June 2 (2pm) – June 6, 2021
(CoMeT Sessions: CMEs are not available, but CEUs are available)
SYMPOSIUM OPENS… (consult the Symposium Program for changes)
The Symposium Program  opens at 8:00am on June 2, 2021
Sessions begin Thursday – Sunday at 8:00am
Sessions End as follows:
Wednesday: 6:30pm
Thursday: 10:00pm
Friday: 9:00pm
Saturday: 9:00pm
Sunday: 5:30pm
SESSIONS
June 2
Symposium Opens
Morning Program CoMeT Presentations. Included in All Sessions or Wednesday Day Rate Registration.
Afternoon Tutorials
2:00 PM Welcome and Introduction
2:15 PM Tutorial: Medical Anatomy and Physiology of Phonation: An Overview
3:00 PM Tutorial: Production and Perception of Voice: An Overview
3:30 PM Tutorial: Production and Perception of Voice: An Overview
4:00PM Coffee Break
4:30 PM Tutorial: Voice Acoustics: An Overview
5:00 PM Tutorial: Production and Perception of Voice: An Overview
5:30 PM Tutorial: Production and Perception of Voice: An Overview
6:00 PM Tutorial: Production and Perception of Voice: An Overview
6:30 PM Panel: Q&A
7:00PM Adjourn
June 3
8:15a – Basic Science Sessions
9:30a – Quintana Award Lecture: Jack Jiang
10:00a – Coffee Break
10:30a –

BS Session II: Phonation Mechanics and Measures

12:00p – Lunch
1:30p – Keynote Speech
2:30p –

BSc Session III: Voice Potpourri – High Speed Video, Perception, and Acoustic Measurement

4:00p – PosterPalooza
5:00p – Dinner
6:00p –

BSc Special Session: Singing – Registers, Acoustic Interactions, and Respiration

7:30p –  Speech-Language Pathology Sessions
10:00p Adjourn
June 4

The Friday Morning Session
Lunch
Workshops
 6:00 PM  – 9:00PM  Professional Voice: The Science and Art of Clinical Care – Robert T. Sataloff
June 5

Voice Lab Representatives Meeting
8:00a-9:30a Medical Sessions
9:30a – 10:00a Coffee Break

10:00a – 11:00a Panel: The Art of the Medicine: M.D. Performers Caring for the Singing Voice

11:00a

Award Presentations

11:15a

G. Paul Moore Lecture

: Charles Larson
12:15a Lunch
1:15a Panel: Meta Therapy: Beyond Vocal Hygiene and Exercise
2:20

SLP Sessions IIA

and IIB
4:00p Coffee Break
4:30p

SLP Sessions IIA

and IIB, continued.
June 6
8:00a Medical Sessions IA and IB
9:50a Coffee Break
10:20a Panel:

The Amateur Choral Singer as a Patient

11:20a Panel:

From Undergrad to D.M.A.: The Path to Informed Voice Pedagogy

12:20p Lunch
1:20p

Voice Pedagogy Sessions IA

and IB
5:20p Concluding Remarks
How long will registrants have access to the on-demand content and recorded webinars?
At least 12 months ending June 1, 2022.
How much does it cost to register for the online program?
Early Bird Registration Prices Before April 24th
MDs attending TVF symposium for the first time 50% DISCOUNT. Use discount code: MD1stTime
Clinical Fellows & Medical Students attend gratis. Register as student, all sessions. Use discount code: 22amzay28. Send email confirmation from department head.

There is no deadline to sign in.
Abstracts Already Accepted for the 2021 Program
All presentations must be uploaded by May 1st. 
---
What do I do when I arrive? – N/A
Upon arrival, come to the registration room (Independence Room) to check in.
Registration is on the 1st floor at the Westin Hotel: take the elevator one floor up from ground level, enter and turn left.
Keep going left past the bar and you will come upon our Registration Room on the right. Welcome!
If you have already registered and paid: you can check in and receive registration materials, a program book, internet information and a big welcome from us.
If you registered, but need to pay: you can pay at the desk and receive registration materials, a program book, internet information and a big welcome from us.
If you have not yet registered: You can register, pay at the desk and receive registration materials, a program book, internet information and a big welcome from us.
HOTEL
Conference Hotel: The Westin Philadelphia
99 South 17th Street at Liberty Place
Philadelphia, PA 19103  United States
Our Dedicated Site
Start Date: Tuesday, May 26, 2020
End Date: Monday, June 1, 2020
Last Day to Book: Friday, May 1, 2020
Hotel(s) offering your special group rate
The Westin Philadelphia for 259 USD per night
Situated in the heart of a city rich with history, The Westin Philadelphia elegantly enhances its desirable Rittenhouse Square address with comfort and style. Steps from upscale shopping, award-winning restaurants and conveniently connected to the offices at Liberty Place, The Westin provides guests with the premiere downtown location. Museums and historical attractions, including the Liberty Bell, Independence Hall, and the Constitution Center, promote the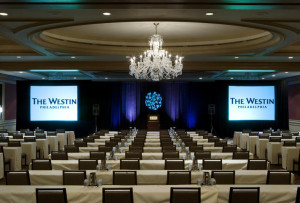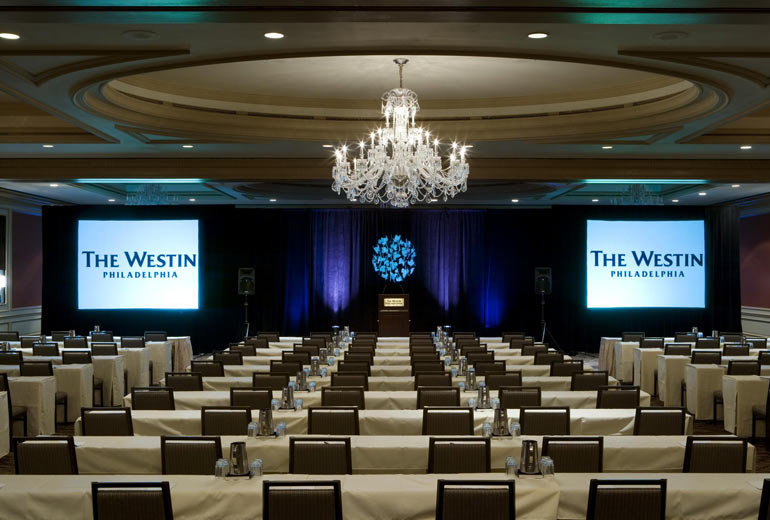 cultural wealth of Philadelphia.
Map
This is where the action is. Networking opportunities are around every corner and in every elevator. Save time getting to and from the meetings and exhibits, even going back to your room between events to make phone calls and check emails. Please make your reservation at our conference hotel where we have negotiated contracts to give you the best value and service. If you book outside our block, we might fall short of our contractual obligations and may be required to pay fees to make up the difference, which in turn will hurt our organization and the benefits we provide.
Rooms go quickly, so please visit: Our Dedicated Site
or call (215) 575-6915 and mention The Voice Foundation
Reservations must be made by May 1, 2019, to receive discounted room rates.
Traditional Single/Double Room: $255.00 per night (regular rate: $299.00 or more per night)
Shared Accommodations
Contact our office at 215.735.7999 or office@voicefoundation.org and we will help coordinate your stay.
Dormitory Housing
Please go directly to the Jefferson Short Term Housing page for more details on very limited dormitory housing at Jefferson University. In the box to the right, click on "Make a Short Term Housing Reservation Here". On the next page, click on the four lines on the upper left. Choose "Center City Short Term Housing Application". Continue!
TRANSPORTATION
From the Airport
Public Transportation  The single best way to get from Philadelphia International Airport ( PHL ) to Center City is via the SEPTA (Southeastern Pennsylvania Transit Authority) Airport Regional Rail Line (formerly R1).  It stops at every terminal at the airport except F (just walk over to E), runs every half-hour from 6 AM to midnight, and is Airport Regional Rail fare: Purchased on-board (most common): $8.00; purchased in advance, $6.50, or One Day Independence Pass ($12.00). The fare is paid to the conductors on board the train. You cannot purchase tickets prior to boarding the train at the airport. (If you are travelling to the airport from downtown, buying tickets at the station reduces the fare as you have purchased in advance.)
After one stop right outside the Airport, it stops at the University of Pennsylvania campus and 30th Street Station (where the Amtrak trains for New York and Washington stop). It then stops at Suburban Station at 16th Street and JFK Boulvard, just two blocks from City Hall and very near several hotels including the Westin (17th & Market Sts.),  Crowne Plaza hotel (18th & Market Sts.), the Wyndham Hotel (17th & Race Sts.), the Four Seasons (1 Logan Square), the Sofitel (17th & Sansom Sts.),The Rittenhouse (210 W. Rittenhouse Square), and many others. This is the commercial and shopping section of the city with many fine restaurants, interesting shops, and sights nearby.
By Taxi
Fares from the airport to Center City are fixed at a flat rate of $28.50 for the first person, plus $1.00 for each additional person.  If you are not going to Center City, ask the cab driver to estimate the fare before you leave, or check the Philadelphia Taxi Fare Finder for an estimate.
Hint for taxis at 30th Street Station: If the line for a cab is long, and there are no cabs in the queue, walk over to Market Street and hail a cab. Market Street will be to your right as you come out of the station to stand in the cab line.
By Shuttle
Some popular shuttle services (in alphabetical order), are: Daves Best Limousine, Lady Liberty Shuttle, Mozio Shuttles & Limos, SuperShuttle. All offer door-to-door shared shuttles to and from PHL airport.Shuttles can have anywhere from a few passengers to a van full, and may make multiple stops, depending on the passengers' pickup points and destinations. When making your plans, especially for getting to the airport, be sure to consider the possibility that a shuttle may take longer than other modes. The trade-offs are price/convenience/time
By Car
Renting a car in Philadelphia is not necessary if you are planning to stay in Center City.  If you choose to rent one, however, from the airport exit, take either 76 West to 676 East or 95 North to 676 West.
Parking
Parking is difficult in Center City Philadelphia. Unfortunately, there is no discount parking. Just horrible center city parking.
35 S 16th St. – Centre Square Garage364 ft walking distance (1 min) (Closest but more expensive)
1616 Sansom St. – Garage
0.2 mi walking distance (4 min)   (Probably the best deal)
1615 Chancellor St. (1616 Walnut St.) – Valet Garage
0.3 mi walking distance (6 min)
1511 Cherry St. (1500 Arch St.) – Love Park Garage
5 S 19th St. (1818 Market St. – Garage)
Amtrack Service to and from Philadelphia
Amtrak has been transporting passengers along America's railways for 40 years. When it comes to traveling along the Northeast corridor, there's no easier way then hopping aboard an Amtrak train and riding the rails.
If you need to get to Philadelphia quickly, Acela Express trains running between Boston, New York, Philadelphia, and Washington, DC, are the way to go. Amtrak offers quick, comfortable travel between the cities seven days a week.
Amtrak service in Philadelphia originates at the beautiful 30th Street Station. Click here for 30th Street Station details.
Information and reservations available at (800) 872-7245 and www.amtrak.com.
Read more: http://www.visitphilly.com/tours/philadelphia/amtrak/
Follow us: http://facebook.com/visitphilly  |  http://twitter.com/visitphilly
SYMPOSIUM INDEX: ←All you need to know is found here
Accommodations | Transportation |
Save
Save
Save
Save
Save
Save
Save
Save
Save
Save
Save
Save
Save
Save
Save
Save
Save